Ireland participates both Phase 1 and Phase 2 of this initiative.
I. Information about the chosen schools
1. Where is/are the school(s) located (name of city, urban/sub-urban/rural)? 
34 schools have signed up to make NO2 measurements over the month of February 2019. It is a mix of schools in cities, sub-urban and rural environments.
2. What kind of school(s) has/have been chosen (nursery, primary, secondary etc.)? 
A mix of secondary and primary has been chosen; about 75% are secondary.
3. How far is/are the school(s) away from busy roads? 
Some schools are located directly on busy roads and others further away.
4. What kind of buildings surround the school(s) (e.g. is it located in a street canyon)?  
This varies between schools.
5. Do you have information on the traffic volume and/or the kind of vehicles passing in front of the school and/or on the neighbouring streets? If yes, please provide this info. 
This information is not available at the moment, but teachers are encouraged (please find "teacher resource" at the bottom of page) to do traffic surveys as part of the study.
6. Please provide an electronic 'snap shot' map of the
city or district where the school(s) is/are located, and of
school's/schools' close surroundings.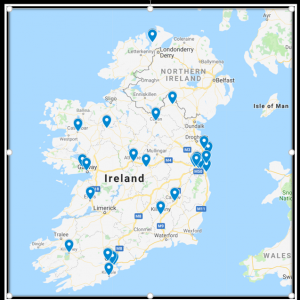 Locations of participating schools
7. Other information, which you would like to share about the schools?
Age profile of students range from 10 to 16 years of age, a high percentage of which are from their academic Junior Cycle (12-14 years of age).
II. Information about the measurement approach
1. What kind of passive samplers do you plan to use, or which ones have you already used to measure NO2? How many?
3 NO2 passive samplers will be installed at each school. These tubes are made by Gradko
2. Do you plan to use or have already used sensors to measure PM? If yes, which ones? How many?
No plan to measure PM during this campaign, but will consider it during the next one. They have not yet identified a PM sensor that would be both cheap and reliable and would welcome any advice that could be shared by other participants.
3. Do you plan or have you already compared results of your measurement equipment with or calibrated against official measurement stations?
Yes – passive tubes have been installed beside a fixed permanent monitoring station so that results can be compared with official measurement results.
4. Where do you plan to locate or have already located the measurement devices? If possible, please indicate this on the map(s) mentioned under I.), or provide coordinates.
NO2 will be measured at three locations on the school grounds. Two tubes are installed in two different locations considered 'exposed' to traffic pollution (e.g. near a main road, idling cars or main drop off point for the school). The third tube is placed away from traffic (e.g. the school playground).
5. Please provide also info on the close surroundings of the measurement devices, e.g. in front of school (busy street, street canyon etc.), in the schoolyard, in the surroundings of the school(s).
We do not have these details at the moment for each of the schools participating
6. Which sampling period(s), i.e. months have you chosen?
To start, a one month measurement in February (already begun). We expect to have results from the lab by the end of March. Then the schools will analyse and report the results, this will be followed by an end-of-year event in early May which will bring together all of the schools to present and discuss their results.
7. Do you also plan to count vehicles, vehicle types?
This is a suggested activity for teachers to to count vehicles and vehicle types with their students. Many schools are also already making weather measurements (temperature, pressure, rainfall, wind speed and direction) at the same time as the NO2 measurements. They will be encouraged to analyse their data in the context of these measurements.
III. Communication with pupils, teachers, parents
Foster engagement: Communicating about the project
1. Please indicate if you have any communication material already available and, if yes, what kind of material they are, e.g. from previous initiatives that can be useful for other participants.
Please find "teacher resource" at the bottom of page. Note: this is Part 1 of the Teacher Resource. Part 2 will be available soon and will include tips to analyse, discuss and communicate results.
2. Do you plan to cooperate with local administration responsible for air quality, traffic, urban planning etc.? If yes, which ones.
It is not planned to cooperate with local administration responsible for air quality, traffic, urban planning etc. at present – but when results are analysed there may be the opportunity for this.
3. Are there any civil society initiatives or communities that are active in that domain in your countries? Which ones? They might have some useful communication material and contacts.
Not that they know of.
Citizen science and behaviour change: capturing long-term impacts
4. How do you plan to 'measure' change in behaviour, see for example the before-after questionnaire  used by 'Curious Noses'?
Students will be encouraged to consider a before-after questionnaire when analysing their results. The EPA has been in contact with SEPA about this and they are considering using the Living Streets Travel Tracker to measure behaviour change. They are kindly investigating whether this is an app that we might also use for future campaigns.
5. Some concrete questions have been suggested in relation to the citizen science approach:
Can citizen science be used as a means of changing mobility behaviours in and around schools that influence air quality?
What ways of citizen science can be employed to changing such behaviour?
How effective are these ways of citizen science in changing mobility behaviour influencing air quality?
What kind of question(s) have you formulated?
The project in Ireland is focusing on data collection (NO2, traffic and weather) and learning about air pollutants. NO2 measurements will be shared with all the schools, so that data analyses can be run by them. In May, they will be invited to share their findings with others and brainstorm ideas and actions to reduce traffic-based air pollution locally.
Teacher Resource – Facts on Air Pollution